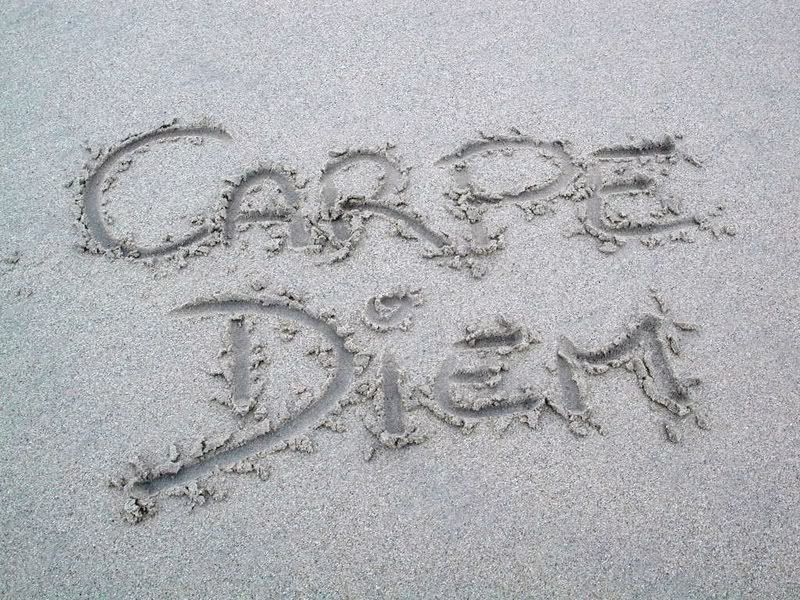 (
A true story, as told to me by my hubby, about a moment in time in a large company in NW Atlanta where he is currently on assignment....
)
Voice 1
(
from the other side of the cubicle
): What is '
carpe diem
'?
Voice 2:
Why? Are you driving somewhere?
Voice 1:
Huh? Oh...not
car per-diem
...
car-pe diem
.
Voice 2:
Oh. Don't know. Never heard of it.
Hubby, stifling his laughter and being a gentleman, steps around the cubicle to help...
Hubby:
I couldn't help but overhear....
Voice 1:
Yeah, what is this '
carpe diem
'?
Hubby:
It means, "Seize the Day!"
Blank looks...crickets chirping...
Voice 1:
I don't get it.
Voice 2:
Is it s'posed to be funny?
Hubby:
No...it's a Latin phrase. It means "seize the day," grab the gusto, don't delay!"
More crickets chirping....
Hubby
(
grabbing at the air with his fist
): Here is the day! I have seized it.
Voice 1:
Huh. That's kinda odd.
Voice 2:
Must be a Latin thing.
I swear to you, this really happened. He started to tell me about this by saying, "Here's a 'Georgia' for you..." Fear not! We feel entitled to have a little fun at the expense of our Georgia neighbors because I was born there (in Douglas), have lived there for a time (in Fitzgerald) as a teen, and still have a lot of family there (spread out through the poorest parts south Georgia). Hubby's brother and sister live in Atlanta, and we lived in Smyrna for 2 years. So we know of what we speak and aren't just poking fun at Southerners. I am a Southern girl. Still...sometimes you run into those people who fit the stereotype, who feed the beliefs of the rest of the world that Southerners are uneducated, out-of-touch dolts. Hey, the stereotype had to come from somewhere, right?
Hope this gave you a chuckle for the day. Peace - D