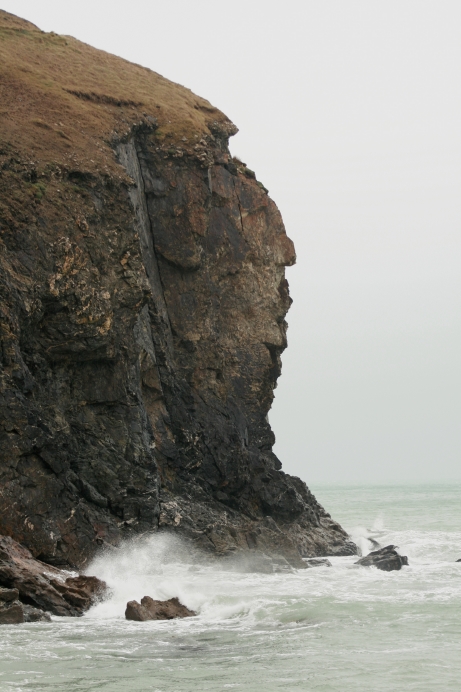 No one can tell you how hard it is going to be, because no one really knows exactly what you will experience. For each one of us parents - particularly mothers - who lose a child in this way, or in any way, the path of progress is unique but uniformly devastating. No matter what your race, creed, or religion, the pain is consistently earth-shattering. No mother should lose her child.
The one-year mark is fast approaching, and I find that my emotions are becoming as raw and intense as they were in the first few weeks. I'm shocked by this, taken aback, blind-sided. Wasn't this supposed to get easier? Hasn't everyone told me that time heals all wounds and that this pain would "get better" and "easier to bear"? Instead, I'm finding myself walking in the same footprints I first trod over eleven months ago, placing each bare foot into the moist tracks on the beach. How is it they are still there after all this time? How is it they haven't washed away? Was it so short a time ago that I last walked beside her?
Before I can retrace all of my tracks, I find myself suddenly face-down and backwards on a long, slow incline, sliding on my belly toward a sheer drop from a high cliff. My speed begins to increase as I approach the cliff, dirt and gravel and burrs tearing into my flesh, unrelenting pain that I gradually realize has been here all along. The urgency of my situation begins to dawn on me, as my fingers seek purchase in the dust. Whether I like it or not, I will reach the cliff. I will drop from it to the rocks below, and my year of self-delusion will come to a bitter end, for there is no method by which I can climb back up to the plateau. No method by which I can go back up the incline toward its beginning. I must simply fight my way through the last few feet of this long slide and drop precipitously to the next plateau.
The cry of agony from my open mouth is not unlike the cry that escaped me when I laid eyes on my daughter's body in the casket at the funeral home Monday, April 6, 2009 at 1 p.m. When the oak door swung open and I first glimpsed her face, far down the aisle, illuminated by a halogen bulb in the ceiling, framed by long, shiny black hair, I thought my legs would collapse and leave me sprawled on the beige carpet between the parallel rows of long pews. She could have been Snow White, but a kiss from a prince would not wake her from her slumber. Her slumber was not temporary nor caused by the poisoned apple of a rival. Her slumber was that of death and permanence and finality.
Finis
. She was gone.
Joan Didion wrote of her year of magical thinking after her husband died of a heart attack at the dinner table with barely a sound. She left his clothing in the closet. She left his shoes by the door. His desk went untouched. It was as though she thought he would come back somehow. What is it about the one year mark that closes the door on our magical thinking? I want to ask her this and see if she knows. She is probably as lost as I on this. What is it about this approaching milestone that is reawakening my pain and anguish that wracked me in those first days? It is as though I were told a big lie. It has not gotten better. Rather it is like the flow of the tides in a more sporadic fashion. When the ebb is at its lowest, a sudden rogue wave can approach and take me out to sea.
Stephanie was my first living child, born on the heels of a miscarriage. She was my only daughter and proved to be the most rebellious, most challenging, of any child I could have imagined for myself. If my youth had been shocking, hers was even more so. Her father and I used to joke that she had a long way to go to shock us, because we had lived our lives freely and ripely in our youth. She was up to that challenge.
Living without her seems like a nightmare from which I have been sure I would awaken. Living without her has been the ultimate shock.
When she died, we did not choose to have her body embalmed but chose a "direct cremation" instead after the autopsy. She was presented only to us, the immediate family, prior to her scheduled cremation. Lying in a simple casket that contained her body in a cardboard cremation container draped in filmy white material, she was soft, still rosy, and beautiful. The scars from the autopsy were well-hidden beneath a high-necked, long-sleeved gown that was worn beneath a hospital gown. How often had I seen her in a hospital gown, her arms covered in tape and IVs, an oxygen cannula beneath her nose? How often had I watched her sleep, dream, drift in a haze of medication? She had always recovered. She had always sat up at some point, arguing with me about one thing or another.
I held her hands and talked to her, prayed over her that day. Now I only have an urn of ashes, and I cannot part with it. I cannot scatter what remains of her to the winds, because in life I had so little of her. This pile of ash is all I have left now.
Ash, dust, grit, and bones grind into me as I continue the long, accelerating slide toward the cliff. Once my fingers touch that incline for the last time, surely something in me will let go, and God knows I don't want it to. I want to go on in this magical thinking, holding onto her clothes, her notebooks, her jewelry, her eyeglasses. I want to go on believing she will call my cell phone, which still contains her number and last permanent address. I want to go on thinking she will need her car - can't sell it or give it away. I want to go on smelling
Charlie
every time I sit and think of her.
But the cliff approaches or I approach it. We approach each other.
Peace - D
[
image credit
]